Books
"[Bush's] books are structurally daring and psychologically penetrating."
— Padma Viswanathan, The Rumpus

"Catherine Bush's Accusation is a novel of great global and emotional scope."
— David Bezmozgis, author of The Free World and Natasha and Other Stories
Accusation chosen as a Best Book of the Year by NOW Magazine, Amazon.ca, Pickle Me This Book Blog. A Canada Reads Top 40 Pick.
"A persistent tapping at the complexities of prejudice – the accusations we harbour in our hearts – brings an unnerving friction to Accusation… Bush's prose is deeply considered, calm on the surface yet, on closer reading, full of ambiguities…Accusation is both a psychological thriller and a novel of anxiety: How can we interpret the actions of another if we are unable to perceive the most crucial elements? In the end, the inner life of another person might be the greatest mystery of all, especially if it was their exoticism that first attracted us. Our projections might blind us to the things every person holds in common: the desire to give love without reserve, the desire, perhaps impossible, to be seen fully, in our complexity, before the blade of judgment falls."
— Madeleine Thien, The Globe and Mail
 "…Be assured that Accusation is that rare beast: a literary novel with the page-turning properties of the best genre fiction. View it from a slightly oblique angle, in fact, and it could almost be a crime novel of the Scandinavian variety, Henning Mankell or Karen Fossum striding headlong into the murkier reaches of human motivation."
— Montreal Gazette
 "Concentric circles spread steadily from the ethical dilemma at the novel's core, growing in depth and implication right up until a perfectly pitched and exquisitely surprising ending. Critical acclaim has never been in short supply for Bush, but there's a sense that Accusation, with a bit of good fortune, could also be her commercial breakthrough."
— Calgary Herald
"A compelling novel that is an exploration of the complex ethical arena of accusations…. Accusation — rich with questions and complexity — is also an homage to the transformative powers of the circus, the beauty and possibility of beginning again."
— Vancouver Sun
For More Articles, Interviews and Reviews go to Media. For Events go to News and Events.
Watch Book Trailer by Mike Hoolboom on the Accusation page.
Excerpt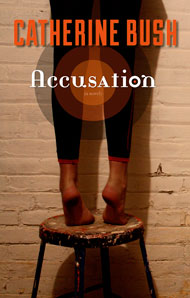 He was out there somewhere, and something led from her to him. She rose to her feet and swallowed a mouthful of whisky. What she owed him was the space in which to be innocent without dismissing the story of his accusers. The internal juggling act was trying to hold both these things in her head at once. He was not charged with anything. Her body coiled in horror and disbelief and fear and compassion and with the desire not to judge, because legally it was wrong as yet to judge him, either him or his accusers, but him in particular because he was the accused and as yet only accused and in some small way she knew what this felt like.
---
Shortlisted for the Trillium Award, a Best Book of the Year as chosen by the Globe and Mail.
"Brilliantly conceived and executed . . . a strange, complex, breathtaking double journey . "
– The Globe and Mail
"Catherine Bush's fiction is clear, humane, gripping, and unfailingly intelligent. She is one of our finest writers."
– Barbara Gowdy
Excerpt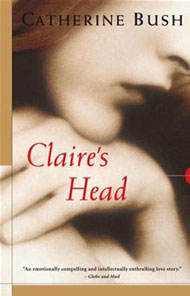 Sometimes the healer laid his hands on her and sometimes he didn't. His touch could be a fleck, an adjustment, a vibrating manipulation… He spoke to her as he worked although she couldn't altogether remember or make sense of what he was saying. Partly it was his accent. At one point he asked her how she was feeling and she said fine now, and if he meant generally then good except that, like Rachel, she got a lot of migraines.  He asked her to turn over, onto her back. He laid one hand on her chest, on top of her collarbone, between her breasts, and peered down at her.  "You must ask, 'What is the place of pain?'"
Buy from Amazon.ca | Read More →
---
A New York Times Notable Book, National Bestseller in Canada, a Best Book of the Year as chosen by The Globe and Mail, and the Los Angeles Times
"Marvelous and strange … When Bush writes of people living in houseboats on the canals of London, floating between settled places, it's hard not to think she's writing metaphorically, of a different way of defining home." – Pico Iyer
Excerpt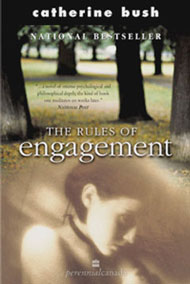 "People aren't just fleeing from something, they're fleeing to. They want borders, safety, government. States. Which is not an argument in favor of nationalism—"
He leaped to his feet. "Is that what all this is about? Really?"
"No," I said as my voice rose. "It's the risk. It seems so crazy when you've—"
"How can you, the theorist, possibly judge me?"
"I'm not judging you!"
"Shhh." Finger to his lips. "I've chosen this risk. Chosen it." I'd have backed away from him if there were anywhere to back. "Perhaps if you took a few more risks yourself. Isn't that the question, really, Arcadia? It is, isn't it? What are the risks that you'd be willing to take?"
Buy from Amazon.ca | Read More →
---
Shortlisted for the SmithBooks/Books in Canada First Novel Award and the 1994 City of Toronto Book Award
"An elegant spiritual examination of a woman struggling to find her bearings: Catcher in the Rye done female, done Canadian." – Tibor Fischer, The Times
Excerpt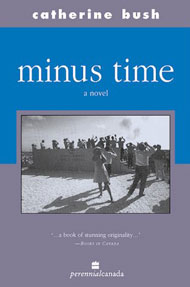 And maybe, in a way, it was easier to hear the news by phone, without being face to face with your animation, the pull and tug in your features as you tried to hide—although I could hear your radiance translating itself unmistakably over the phone. If I took away your restlessness and love of distance, then I had nothing: no mother at all. Our father had vanished in an instant; you unpeeled yourself from us like skin, piece by piece. No. You hurled us with you into the future. We soared over other people's barbecues and skating expeditions and shopping trips, an atomic family, fissioning in all directions, spiraling through the air.