Accusation
"Catherine Bush's Accusation is a novel of great global and emotional scope."
— David Bezmozgis, author of The Free World and Natasha and Other Stories
Accusation chosen as a Best Book of the Year by NOW Magazine, Amazon.ca, Pickle Me This Book Blog. A Canada Reads Top 40 Pick.

"Utterly compelling and readable, Accusation presents the reader with a disturbing mystery. Catherine Bush draws us inexorably into a world marked by secrets, complicity, the unknown, and ultimately hope. A remarkably shrewd exploration of the agony of doubt."
— Gil Adamson, author of The Outlander
"At the heart of Accusation — and the source of its suspense — is the desire to see justice done in a situation where truth is elusive. The power of this novel is that it brings a quiet dignity and compassion to precisely this state of moral helplessness. This is a moving and ambitious book."
— Anne Michaels, author of The Winter Vault and Fugitive Pieces
"A persistent tapping at the complexities of prejudice – the accusations we harbour in our hearts – brings an unnerving friction to Accusation… Bush's prose is deeply considered, calm on the surface yet, on closer reading, full of ambiguities…Accusation is both a psychological thriller and a novel of anxiety: How can we interpret the actions of another if we are unable to perceive the most crucial elements? In the end, the inner life of another person might be the greatest mystery of all, especially if it was their exoticism that first attracted us. Our projections might blind us to the things every person holds in common: the desire to give love without reserve, the desire, perhaps impossible, to be seen fully, in our complexity, before the blade of judgment falls."
— Madeleine Thien, The Globe and Mail
 "…Be assured that Accusation is that rare beast: a literary novel with the page-turning properties of the best genre fiction. View it from a slightly oblique angle, in fact, and it could almost be a crime novel of the Scandinavian variety, Henning Mankell or Karen Fossum striding headlong into the murkier reaches of human motivation."
— Montreal Gazette
 "Concentric circles spread steadily from the ethical dilemma at the novel's core, growing in depth and implication right up until a perfectly pitched and exquisitely surprising ending. Critical acclaim has never been in short supply for Bush, but there's a sense that Accusation, with a bit of good fortune, could also be her commercial breakthrough."
— Calgary Herald
"A compelling novel that is an exploration of the complex ethical arena of accusations…. Accusation — rich with questions and complexity — is also an homage to the transformative powers of the circus, the beauty and possibility of beginning again."
— Vancouver Sun

"Deftly rendered … Bush not only writes vividly about Toronto and Africa, evoking the children's gymnastic talents with great energy, but she gets to the heart of journalism's essential dilemmas, too."
— NOW

"A powerful reflection on the nature of allegations. In this tense, intimate mystery, Bush examines the relationship between guilt and perception, using characters so vivid they captivate from the first page."
— Prism magazine
 "In the same way that doubt seems to clamor and crowd, the complexity of the narrative in Accusation presses and circles. It is thrilling and tantalizing to recognize the swelling layers of fabrication…Accusation is a tale of risk told in an assured and accomplished voice: compelling, unsettling, haunting."
— Buried In Print
"Bush explores the ethics of journalism, justice, story-telling, friendship and love, as well as the relativity of truth, or whether truth even matters at all. What is the line between the story as it is and the story we imagine? Does any story even really exist outside of our minds? Accusation is ambiguous, complex … The reader becomes deeply engaged in the prose and the plot, part of the story herself."
— Kerry Clare, Pickle Me This Book Blog
"One of 2013's finest fiction offerings."
— Chad Pelley, Salty Ink
"The novel is a page-turner in a way and a kind of detective story. Unlike most page-turners and much detective fiction, however, Bush's realistic prose narrative is almost totally focused on issues relevant to readers' lives."
— The Record
"Catherine Bush is a novelist who gets deep into your head. She's displayed a talent for international setting, portraits of shifting morality and complex characterization, all while putting together propulsive plots… Her breakout book comes in the form of Accusation."
— David Worsley, bookseller, Words Worth Books, Waterloo, ON
"Bush has put her novelist's finger on something difficult and important."
— Susan Swan, author of The Western Light
For full reviews, interviews, and articles go to Media.
For upcoming events, go to News And Events.
Book Trailer
Excerpt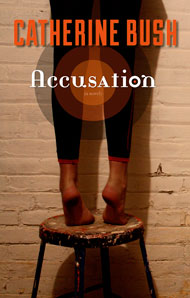 He was out there somewhere, and something led from her to him. She rose to her feet and swallowed a mouthful of whisky. What she owed him was the space in which to be innocent without dismissing the story of his accusers. The internal juggling act was trying to hold both these things in her head at once. He was not charged with anything. Her body coiled in horror and disbelief and fear and compassion and with the desire not to judge, because legally it was wrong as yet to judge him, either him or his accusers, but him in particular because he was the accused and as yet only accused and in some small way she knew what this felt like.
Description
While in Copenhagen, Sara Wheeler, a Toronto journalist, happens upon Cirkus Mirak, a touring Ethiopian children's circus. She later meets and is convinced to drive the circus founder, Raymond Renaud, through the night from Toronto to Montreal. Such chance beginnings lead to later fateful encounters, as renowned novelist Catherine Bush artfully confronts the destructive power of allegations.
After a friend of Sara's begins work on a documentary about the circus, unsettling charges begin to float to the surface, disturbing tales of sexual and physical abuse at the hands of Raymond. Accounts and anecdotes mount, denunciations fly, and while Sara strives to untangle the narrative knots and determine what to believe, the concept of a singular "truth" becomes slippery. Her present search is simultaneously haunted by her past.
Moving between Canada, Ethiopia, and Australia, Accusation follows a network of lives that intersect with life-altering consequence, painfully revealing that the best of intentions can still lead to disaster. Yet from disaster spring seeds of renewal and hope.
Media
For full reviews, interviews and articles go to the Media page.
Catherine Bush: Accusations
Afterword
A few weeks ago, someone told me another story about being accused. I've been collecting these stories, both while working on my novel Accusation and since its publication.
Some years ago, this woman was a young mother with a son in daycare. A daycare worker called her up, remarked on a bruise on her son's arm, and threatened to report her for child abuse. Other mothers must have been told the story. Some shunned her. She refused to take her son out of the daycare because he was happy and had done nothing wrong. She also knew that the staff of different daycares were in contact and the story would likely follow her son, and her, from one daycare to another. In addition, moving her son might make her look guilty. She wanted to shout to the other mothers, Don't your children sometimes get mysterious bruises and you don't know how they got there? As she spoke to me, pain and protective anger resurfaced in her voice and reddened her skin.
Most of us have an accusation story.  Some return us to childhood or adolescence and the assertions of parents or teachers, in whose presence we are voiceless and without power. To be accused is to experience a kind of trauma. An accusation is like a golem that has its own life, a shadow that never leaves us. You can be cleared but not unaccused. Even a retracted accusation lingers: it cannot be unspoken or unthought. Untrue allegations alter us. They enter and live inside us as we wrestle with another person's version of us that is utterly irreconcilable with our own truth. We wonder what we did to make someone launch the accusation against us.
In the mid-1990s, I went with my then-partner to visit my sister in Addis Ababa, Ethiopia, where my partner made a low-budget film about a children's circus. I met and interviewed its Canadian founder and wrote a glowing newspaper feature about his work. Three years later, this man was accused of abuse by some of the older performers, who fled the circus while overseas and made an asylum claim. The case was never publicly resolved. I was haunted in part because, having spent an admittedly brief time with this man and the circus, I'd never picked up any clues that made me suspicious. Had I been taken in by all that looked good, by what I wanted to see? And surely there was some good here: the way the children had embraced the aims and possibility of the circus, the social engagement of their shows, the work with street children.
I wondered about the man, about his alleged victims, and ultimately turned my internal lens upon myself. My trust in my own judgments wavered. The disjunctions between what we present to the world and what we carry within felt more ferocious than ever.
In the wake of the allegations, the man left the circus. His name was subsequently linked to an abuse case in another aid organization in Ethiopia. A journalist, on staff at the National Post at the time, and an acquaintance, tracked him down, wanting to give him a chance to make his case — good journalistic practice. He denied the allegations, insisting that his accusers had said what they did in order to bolster their asylum claim. Then he did something shocking. What struck me, in addition to his violent act, was the way others interpreted it: some said it confirmed his guilt, others his innocence.
Ideas for novels often come to me when different stories pull themselves into proximity and set off a new associative charge, the way that you might rub two sticks together to generate a spark. While touring my previous novel, Claire's Head, I spent time with a friend, who told me of standing as a character witness in the trial of someone who'd been falsely accused of credit card fraud. She believed her friend. Nevertheless, the process of the trial unsettled her. The prosecutor's version of events made doubt lap at her even as she shook it off.
I kept returning to these stories. Beyond questions of guilt or innocence, I found myself thinking about how we respond to accusations against others, particularly when we cannot know for certain whether they are true or false. Our responses, our actions reveal their own truths. Our doubts and judgments implicate us. We project ourselves onto others. Or scapegoat them.
Some writers insist that stories and novels require conflict, but narrative energy also uncoils from characters caught on the cusp of choice. The difficulties of making a choice, and the emotional and ethical fall-out of our actions, are quandaries that drive me onward as a writer.
In Accusation, a female journalist, wrongly accused in the past of small-scale theft and credit-card fraud, encounters the founder of a children's circus, who is then accused of abuse by some of his performers. What would my journalist, who knows what it's like to be falsely accused, do when confronted with this other accusation? What would happen when she decides to pursue this story? As I began work on the novel, I couldn't help thinking about the tangled ethics of writing about such an allegation at all, how writing about the accusation might keep it alive.