Minus Time
Shortlisted for the SmithBooks/Books in Canada First Novel Award and the 1994 City of Toronto Book Award
"An elegant spiritual examination of a woman struggling to find her bearings: Catcher in the Rye done female, done Canadian." — Tibor Fischer, The Times
"Minus Time is a book of stunning originality.  This is a dazzling debut." — Books in Canada
"A recounting of the plot of Minus Time cannot do justice to the rewarding complexity of its fictional world…  What Ms. Bush offers … is a mordant vision of late 20th-century life in which families fall apart, the environment grows toxic, and natural disasters abound — and yet redemption remains a possibility." — The New York Times Book Review
"Bush has chosen a strange and remarkable metaphor for the chaos of modern life. … Like Martin Amis in London Fields, she creates a background of environmental disquiet to reflect the disturbances in her characters' lives: the planet is wracked by chemical fires, earthquakes, and toxic spills….  A family as idiosyncratic as any in recent fiction… thrilling…." — The Village Voice Literary Supplement
Excerpt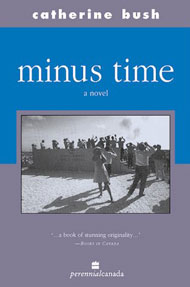 And maybe, in a way, it was easier to hear the news by phone, without being face to face with your animation, the pull and tug in your features as you tried to hide—although I could hear your radiance translating itself unmistakably over the phone. If I took away your restlessness and love of distance, then I had nothing: no mother at all. Our father had vanished in an instant; you unpeeled yourself from us like skin, piece by piece. No. You hurled us with you into the future. We soared over other people's barbecues and skating expeditions and shopping trips, an atomic family, fissioning in all directions, spiraling through the air.
Description
On a January morning, Helen Urie and her brother Paul wait by a Florida highway for the shuttle launch that will send their mother into space.  Canadian astronaut Barbara Urie is attempting to set a record for human space habitation.  Her husband, David Urie, is also far from home, joining relief teams around the globe, trying to save the world's inhabitants from both natural and manmade disasters. Narrated by 21-year-old Helen Urie, Minus Time looks backward and forward — at the years leading up to Barbara's launch, as each member of the family contends with Barbara's passion for space, and at the months following liftoff.  What kind of family life is possible when your parents are in constant motion and there's so much distance separating you from them?  With risks of disaster all around, how do you dream a future for yourself?
With surreal lyricism and edgy, deadpan wit, Minus Time traces a young woman's desire to make a place for herself in a world of media madness and toxic scares, where the simple act of breathing is fraught with danger.  Brilliantly observed and deeply moving, Catherine Bush's debut novel offers a striking snapshot of life lived on the cusp of a millennium, a potent mother-daughter story, a tale told in a voice sparked with irony and awe.