The Rules of Engagement
A New York Times Notable Book, National Bestseller in Canada, a Best Book of the Year as chosen by The Globe and Mail, and the Los Angeles Times
"Marvelous and strange … When Bush writes of people living in houseboats on the canals of London, floating between settled places, it's hard not to think she's writing metaphorically, of a different way of defining home."
– Pico Iyer
"[Catherine Bush]… is clearly a high-risk author, intellectually unafraid.  In her second novel, The Rules of Engagement, she traverses war zones – psychological, sexual, real – with clear eyed, cerebral sophistication." – Catherine Lockerbie,The New York Times Book Review
"It is her combination of deeply imaginative storytelling and a genius for tapping into the zeitgeist that makes Bush's novels so compelling." — Toronto Life
"Meticulous, often beautiful prose." — Claire Messud, The Globe and Mail
"Bush writes novels as brainy as they are poignant. For my money, there is no higher recommendation." — Newsday
Excerpt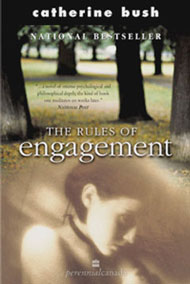 "People aren't just fleeing from something, they're fleeing to. They want borders, safety, government. States. Which is not an argument in favor of nationalism—"
He leaped to his feet. "Is that what all this is about? Really?"
"No," I said as my voice rose. "It's the risk. It seems so crazy when you've—"
"How can you, the theorist, possibly judge me?"
"I'm not judging you!"
"Shhh." Finger to his lips. "I've chosen this risk. Chosen it." I'd have backed away from him if there were anywhere to back. "Perhaps if you took a few more risks yourself. Isn't that the question, really, Arcadia? It is, isn't it? What are the risks that you'd be willing to take?"
Description
Arcadia Hearne studies war, investigating contemporary world conflicts from the confines of her London flat. Her safe haven is threatened when her sister Lux arrives and prevails upon Arcadia to deliver a package to a young Somali refugee, Basra Alale. Through Basra, Arcadia meets another refugee, the Iranian Amir Barmour, a man who hides a secret about himself, just as Arcadia does.  Arcadia's involvement with Amir pushes her even further into a world full of people in flight from global conflicts.  And it is Amir who forces Arcadia to confront the question she has been evading: what are you willing to risk to help others in danger?
Returning to Toronto, Arcadian attempts to reconstruct the violent event in her own past that made her take flight to London.  Ten years previously, two university students, rivals for her love, fought a pistol duel over her.
Switching between present and past, The Rules of Engagement is a powerful, invigorating exploration of love and war, risk and responsibility.  Smart and passionate, it pulls the reader along, asking us, too, to consider what borders – emotional and geographic – we are prepared to cross.