Press Coverage of Accusation

Selected Reviews and Profiles: Globe and Mail, Montreal Gazette, Vancouver Sun, NOW, Prism, Buried in Print, Pickle Me This, Maple Tree Review.
Selected Interviews: The Rumpus, CWILA, Lemonhound, Toronto Quarterly, Salty Ink, Coastal Spectator.
National Post Afterword columns.
Reviews of Accusation
McGillis: A writer's call to avoid a rush to judgment
By Ian McGillis, Special to The Gazette October 18, 2013
If Catherine Bush is looking especially chipper on the Skype screen from her Toronto home, there's perhaps more to it than the mere matter of having a long-awaited new novel finally in the nation's bookstores. We're talking two days after Alice Munro's Nobel win, and like so many Canadians, we're both still buzzing with the news.
"I was so happy, I was in tears," the 52-year-old writer said of her reaction to the Nobel announcement. "Great art is a kind of conversion process, and I feel altered by Alice Munro because of the way she sees the world, the way she sees time, human relationships, even the way she sees sentences. Of all the writers up in the pantheon that I would want this to happen to, I can't think of anyone more deserving. It's a vindication of her dedication to the short story, of her attention to the specificity of place, and of the absolute integrity of her writing life. Everyone just seems so unreservedly happy about it, and that's so lovely in itself, that this piece of news could spread such joy."
These, clearly, are the words of a writer who takes her vocation and craft seriously, a quality in abundant evidence in Accusation. Her fourth novel and first since 2004's Claire's Head, the new book represents a consolidation of the themes and preoccupations of the first three, and a step beyond them, too. Inspired by a story the author encountered on a personal trip to East Africa in the 1990s, the plot centres on Sara Wheeler, a Canadian journalist who chances upon a travelling Ethiopian children's circus while visiting Copenhagen. Caught up in the optimism and vitality the young performers seem to represent, she ends up having a brief personal entanglement with the troupe's charismatic Canadian founder, Raymond Renaud; later, when some of the performers apply for refugee status in Australia amid accusations of sexual molestation against Renaud, Sara is left guiltily wondering whether she missed the signs, and to what degree she should pursue the story as a journalist.
Concentric circles spread steadily from the ethical dilemma at the novel's core, growing in depth and implication right up until a perfectly pitched and exquisitely surprising ending. Critical acclaim has never been in short supply for Bush, but there's a sense that Accusation, with a bit of good fortune, could also be her commercial breakthrough.
"I'm writing about what it means to write about others," Bush said of her impetus for Accusation. When it became apparent that the reporting on the original, real-life story may have led to harm for one of the principals, it seemed "a kind of crisis of journalistic ethics," Bush said. "I was thinking about what that means, and the difficulty of writing about stories like this at all.
"As a novelist, I'm in the same position — you write about an allegation and you spread it further, whether or not it's true. Simply by mentioning it, you give it more life. How do you do this ethically? How do you talk about the complexity of the way allegations live in the world, whether we're the accused or the accuser, bystander or journalist or novelist?"
Thorny questions of sympathy infuse Accusation, exemplified in the character of Sara. Years before the main events of the novel, she was herself accused of theft — unjustly, as it happened, but the gruelling court case has left lasting scars, the kind that make her motives at times less than crystal clear. What's more, she's in a relationship with a married man whose wife is suffering from cancer. If you're looking for a moral paragon at the heart of Accusation, you'll be disappointed. But a big part of Bush's point is that you probably shouldn't be looking.
"It's so easy to judge others from the outside," she said. "What I would hope this novel does is help (readers) confront their own immediate judgments and prejudices. The question (with Sara's affair) might then be, 'Well, why would a woman do something like this?' We don't know what goes on in anyone's relationship, we don't know what goes on in anyone else's head. The novel is full of ambivalent feelings and ambivalent moral situations because these situations occur in life, and it's really important to try and feel our way through them in art."
Pedophilia is such a raw and charged subject that writing about it can't have been a decision taken lightly, one assumes.
"It was extremely difficult," Bush said. "There are all sorts of risks. I'm aware that some people just don't want to go to there, and so there's a kind of transgression in doing so. I would very much want to say, though, that it's not a novel about pedophilia, it's about accusations and their destructive power. It happens that this is one of the most awful and powerful things that anyone can be accused of. There's no way of escaping that allegation once it's been made against you, even if you're innocent. Your life is probably ruined because of it. The allegation itself has such a powerful life."
Lest all this be creating the impression of something ponderous, be assured that Accusation is that rare beast: a literary novel with the page-turning properties of the best genre fiction. View it from a slightly oblique angle, in fact, and it could almost be a crime novel of the Scandinavian variety, Henning Mankell or Karen Fossum striding headlong into the murkier reaches of human motivation.
Read the whole review here.
Catherine Bush produces a novel of anxiety and ambiguity
MADELEINE THIEN
Special to The Globe and Mail
When a black man is charged with a violent crime, what does a white observer see? What happens in the opposite case? How much more fraught is the act of interpretation, or judgment, when observing the actions of a person of another race or ethnic background?
These are loaded questions, particularly in proudly multicultural Toronto, where Catherine Bush's fourth novel, Accusation, begins. The novel opens with Sara Wheeler, a journalist covering "immigration issues and immigrant communities" for a national Canadian newspaper. She has become preoccupied with Raymond Renaud, Canadian founder of the internationally renowned Circus Mirak, an Ethiopian troupe whose oldest performers are no more than teenagers. At a benefit in Toronto, she ("tall and blond") is introduced to Raymond, a "muscled, supple-limbed, pale black man." Late that night, the unexpected occurs: A vulnerable Raymond approaches Sara with the proposal that she, a stranger, drive him six hours to Montreal so that Raymond can catch a flight. Intrigued, Sara agrees.
In the protective darkness of the car, Sara tells Raymond about a pivotal episode in her own life: Years ago, she was accused of theft and fraud. Because of a lack of evidence, there was no conviction but, crucially, no exoneration. Sara believes that this false accusation is the truest thing she can confide.
Afterward, they do not remain in contact. Months later, when nine members of Circus Mirak seek asylum in Australia, claiming physical and sexual abuse by Raymond, Sara becomes obsessed with the man she once drove to Montreal. She trawls footage of the children, but sees no evidence of "monstrousness." Yet the inability to see it, she tells herself, "didn't mean it wasn't there."
A persistent tapping at the complexities of prejudice – the accusations we harbour in our hearts – brings an unnerving friction to Accusation.
…
Accusation is both a psychological thriller and a novel of anxiety: How can we interpret the actions of another if we are unable to perceive the most crucial elements? In the end, the inner life of another person might be the greatest mystery of all, especially if it was their exoticism that first attracted us. Our projections might blind us to the things every person holds in common: the desire to give love without reserve, the desire, perhaps impossible, to be seen fully, in our complexity, before the blade of judgment falls.
Madeleine Thien's most recent novel is Dogs at the Perimeter.
Read the full review here.
October 26, 2013
In her work as a journalist, Sara Wheeler has often inhabited "borderlands of turbulence and uncertainty", and travelled into dangerous territory.
Readers familiar with Catherine Bush's earlier novels might recall Arcadia from Rules of Engagement, her fascination with war and violence, and the question that haunts her: "What would you be willing to risk for love?"
Perhaps Sara Wheeler is driven by a related question: What would you be willing to risk for truth?
Each woman negotiates the shifting line between the personal and the political, between individual integrity and overarching values.
And each woman grapples with loss which reverberates well beyond her personal experience of devastation.
"There's a piece of all this I haven't told you. Something that makes it all particularly hard," Sara explains.
"I was once falsely accused of something, something so much smaller than this but. And then she unraveled the story of Colleen Bertucci and the wallet, watching David's face take in her words. As she spoke, the palm on her chest released itself."
…
And Sara's world tilts again as events unfold in Accusation. It is all intertwined: "Each loss was particular but pushed up against every other loss."
As Arcadia learned in Rules of Engagement, the outcome of one intervention necessarily affects the next and choosing to take action always entails a risk in both personal and political realms, sometimes with devastating consequences.
Sara's story is disturbing, and increasingly more so as the plot develops and her character strains under the weight of complications. 
Accusation is a tale of risk told in an assured and accomplished voice: compelling, unsettling, haunting.
Read the full review here.
Kerry Clare, Pickle Me This, Literary Blog
October 6, 2013
Accusation by Catherine Bush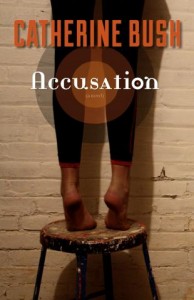 "I'm not a circus person," explains the protagonist of Catherine Bush's fourth novel Accusation, a line that had me nodding along in agreement. It's many the author who finds literary inspiration in the circus spectacle, but books about circuses in general tend to bore me, with their freakish humans, chained-up animals and trapeze tragedies. I like my literary characters planted on the ground, preferably one that is concrete. Catherine Bush's novel, however, is something altogether different from the usual circus story, no big-top for her, but instead a pared-down spectacle, a children's circus in Ethiopia whose attraction is its performers and the amazing ways they can contort their bodies, how they can catch fire that they throw in the air.
Bush's novels are always planted much more in concept than narrative and plot, and they are markedly unusual for this. They are also remarkable for their realism, details that plant the stories deep in the ground, on very specific sidewalks and streets, so that a book about a mother orbiting the Earth in Outer Space seems not so far from one's own experience at all (as in her first novel Minus Time), and so too with this this novel about a journalist driven to explore a(n alleged) crime committed an ocean away amidst a community of street children turned circus acrobats. And this is just one way that this novel turns in on itself as we read it, for it is a story about how we project our own experiences upon those of others.
Read the full review here.
NOW Review By Susan G. Cole
ACCUSATION by Catherine Bush (Goose Lane), 356 pages, $32.95 cloth.
You can record, videotape, photograph and do a ton of other things to document a situation. But you can never be sure whether you've discovered any actual truths.
That's the theme of Catherine Bush's deftly rendered tale about a seasoned journalist trying to get to the root of a story about a man accused of child sexual abuse.
Sara is charmed by an African children's circus while on assignment in Copenhagen, prompting her to suggest to a filmmaker in T.O. that she make a documentary about them. When, on a tour of Australia, members of the circus refuse to return to their home in Ethiopia, accusing circus director Raymond Renaud of physical and sexual abuse, Sara doesn't know what to think and tries to investigate.
Bush (The Rules Of Engagement) is fascinated by the factors that can mess with Sara's judgment. Sara can't really be sure of anything. She herself was falsely accused of a crime – and let down by her friends during the legal proceedings – and may be too influenced by that experience.
Read full review here.
The moral complexity of accusation
Friday, March 14, 2014
By Denise Ryan, Vancouver Sun
Jenelle Schneider/PNG
Photographed by:
Jenelle Schneider, Vancouver Sun
interview
Explicit accusations, played out in print or social media make such gripping stories that the matter of innocence or guilt is often just a footnote, a debatable one at that. The high-profile accused like Amanda Knox and Woody Allen live in our imaginations as stories, not people. We only know what is said about them, what is suspected, what might have happened.
An implicit accusation — the mistrust of a lover, the cold stare of a customs official, a person who no longer sees you, but only sees the possibility of guilt — and you are cast into a grey area. Innocent? Maybe. Accused? Definitely.
What happens when an implicit accusation escapes the confines of a private or procedural exchange, becomes explicit, blows up on social media, among co-workers, legally or in a family? Something that, once said, broadcast or printed, can't be pulled back?
It's a question that has fascinated Catherine Bush, author of Accusation, a compelling novel that is an exploration of the complex ethical arena of accusations — what an accusation means to the accused, to the accuser and to observers outside the arena who may or may not be making judgments.
The book's protagonist, Sara, is a journalist, who becomes fascinated by a charismatic Canadian who has founded a children's circus in Ethiopia. When several child performers in his charge defect in Australia, and make a public accusation of abuse, Sara becomes obsessed with finding out the truth. Sara too is haunted by the echo of an accusation that landed like a blow in her own life: some years before she endured a trial after being accused of stealing a stranger's wallet in a gym.
"Accusation is a legal state, but it's also a state of mind. A state of feeling," said Bush on a recent visit to Vancouver. "The emotional terrain of accusation fascinated me."
Bush drew from real-life incidents that had perplexed her. "I went with my then-partner to visit my sister who was living in Addis Ababa. We spent some time with a children's circus, which, as in the novel, was founded by an incredibly charismatic Canadian man. He had built this circus into a worldwide phenomena, a fabulous success story. Some years later he was accused by some of the older performers that had fled in Australia, made an asylum claim and accused him of sexual and physical abuse."
Inevitably, Bush said, having borne witness to something that later, in the context of new information, appears different, you ask yourself questions. "What didn't I notice? Was there something I didn't notice?"
The novel came to life for Bush when she wove in the narrative of Sara, who had been falsely accused. Sara harbours the emotional reality of what it's like to be falsely accused of something. There is a helplessness, a voicelessness to being accused, and the act of investigation carries a stigma, a whiff of substantiation.
"All you can say is 'I didn't do it,' which never has the same kind of force as someone saying 'You did it.' You are always fighting against the accusation," said Bush.
Since writing the book, Bush has become a kind of mother-confessor to friends and acquaintances who feel compelled to share with her their stories of being accused.
Read the full profile here.
Interviews with Catherine Bush
The Rumpus Interview: Catherine Bush with Padma Viswanathan
The Rumpus: All of your novels have revolved around people whose work is a defining feature of their lives. In this book, work defines the emotional and energetic trajectories of three key characters: Sara is a journalist who has reported from many war zones, but has now chosen to report on matters closer to home; Raymond is a sometime teacher whose almost-accidental founding of a children's circus in Ethiopia gives his life meaning; Juliet is an old friend of Sara's who has just been let go from an demanding TV job, but who gets the idea, from Sara, to do a documentary about Raymond's circus project. How did you develop these characters in relation to their work?
Catherine Bush: We spend a lot of our lives working, and for many of us, work is a way of life, not just a job, a source of passion and passionate engagement. That's true of me as a writer, and if I look at the lives of those around me, not just other artists, that's what I see.
I'm not altogether sure where work ends and private life begins. Desire pulses through our work as well as our intimate relationships. What we do shapes our being and our days. It's true I've written about some unusual occupations: a female astronaut who's also a mother; a woman who studies war. I don't know that I choose professions for characters as much as pursue zones of deep interest that generate professions as well as internal and external conflicts that arise from what characters do. In Claire's Head, my last novel, Claire is a cartographer. Mapping is both a profession and a way of looking at the world.
Accusation has some very personal points of origin, and these determined the occupations of its characters. In 1996, I visited Ethiopia with my then-partner who made a low-budget documentary about a children's circus founded by a Canadian man in Addis Ababa. I interviewed this man and wrote a newspaper feature about the circus. Three years later, he was accused of abuse by teenaged performers who fled the circus and made an asylum claim in Australia. He was then linked to a pedophile in another aid organization. The journalist who tracked him down happened to be a close friend of my sister. She was trying to be a good journalist, to give him a chance to make his case. He denied the allegations. Then, in the aftermath, did something violent. I can't really say more without giving away a climactic moment in the novel. She wasn't at fault but was in the vicinity of his destructive act. Her dilemma haunted me. You can act with the best of intentions and still cause harm or feel inadvertent responsibility. To write about an allegation, especially one as terrible as sexual abuse, is to spread that allegation further, and that's a quandary. It became my quandary.
Read the full interview here.
The CWILA Interview: Catherine Bush with Savanna Scott Leslie
In Accusation (Goose Lane, 2013), you write, "Doubt: once it enters your mind and body, how difficult it is to get rid of it. If not impossible." Doubt creates a constant tension throughout the novel. Why did you want to explore the concept of doubt?
While working on the novel that came to be called Accusation, I bookmarked Keats' description of negative capability on my web browser: "that is, when a man is capable of being in uncertainties, mysteries, doubts."
Obviously women have these capabilities too. But in the Keats quote, doubt sounds like a good thing. It's allied with being open to uncertainty rather than rushing to judgment. When Sara Wheeler, the journalist who is the protagonist of Accusation, first learns of the accusations of abuse made against Raymond Renaud, the Canadian founder of an Ethiopian children's circus, she doesn't want to assume that he's guilty. At the same time, she doesn't want to dismiss the allegations made by the teenagers who flee the circus and who may well be Raymond's victims. As she says, she doesn't assume innocence but wants to give Raymond the space in which to be possibly innocent. When I describe the novel's premise before giving a reading, I often say that Sara wants to give Raymond the benefit of the doubt. I then note what a strange expression this is, since we usually view doubt as a form of suspicion. In fact, Sara doesn't want to doubt Raymond. She wants to give Raymond the benefit of trust. Actually, she wants to reside in precisely that Keatsian space of uncertainty.  But then she also wants to find out more.
Why doubt? I was drawn to the situation described in the novel by my own perplexity in response to actual events. I needed to build a narrative house for my uncertainty. That was the best thing I could think to do with it. Doubt is the opposite of trust. What makes us trust someone, believe someone's story? I wanted to think deeply about the processes by which we judge others and decide to trust another—whether in our intimate relationships or when someone faces an accusation. A novel invites readers to be taken on a journey in which they'll feel contradictory things. That's one thing a novel can do and something I want a novel to do. Also, it's so important, ethically, that we take the time to turn our gaze on ourselves and consider how we judge others, and how we judge others' stories. I endeavoured to write a novel that asked readers to do that.
Read the full interview here.
The Toronto Quarterly Interview with Catherine Bush
TTQ – What inspired you to start writing and who were some of your early influences or mentors?
Catherine Bush – I started writing because I needed to find a way to give words to things that hadn't been given words: family stories and sometimes not even stories but the complex web of emotions that being in a family, any family, arouses. Fear. Loss. Wonder. As a very small child I felt enormous fear at strange things, like the smell of sulfur in the water of the Banff hot springs, which made me cry in my mother's arms, in part because it was impossible to communicate why I was so frightened. Telling stories displaces some of the oldest fears and also becomes a voice that speaks in the face of them. Family is the inevitable influence, isn't it? Reading books also made me want to write. There was an English writer named William Mayne whom I read as a child, whose fierce, compressed sentences introduced me to the idea of style. He wrote literary time travel. Earthfasts was one title. His work remade the world and made it strange and new, which is what literary writing should do. And he made me understand what you can do with sentences. Years and years later, as an adult, I found out that Mayne had sexually abused young girls. I was haunted then by my own love of his work and its importance to me — what if I had encountered him, the man, the writer, as a girl? And what was I to do with my love of his work given the horror of the man? Disowning the work, or its importance to me, still felt like disowning part of myself. All this is to say that influences are complex.
TTQ – In your opinion, what constitutes a great novel?

Catherine Bush – I'm forever called back to Richard Howard's introduction to Christina Stead's great novel, The Man Who Loves Children, in which he writes, "A novel is a prose narrative of some length that has something wrong with it." And yet what's wrong with it doesn't matter. A great book, according to Howard, "does a single thing better than any other book has ever done it." I'm thinking these days about the place of frustration in our response to literature. I don't think we leave enough space for useful frustration and its relationship to novels that fail to conform to our expectations, the ones that may be unshapely but are so fully themselves that they rearrange us if we allow them to do so. These are the novels that haunt me, among them Kazuo Ishiguro's When We Were Orphans and Sheila Heti's Ticknor. A novel must be alive and make us feel more alive. As Mavis Gallant says, "literature is no more and nothing less than a matter of life and death. The only question worth asking about a story … is, "Is it dead or alive?'" She's right.
TTQ – How would you best describe your latest novel Accusation (Goose Lane Editions, 2013) and how much of a departure was this novel from your previous ones?
Catherine Bush – Every novel is, I hope, a departure from the one before: a different departure that opens into a different journey. Accusation is preoccupied with theft. Everyone in the novel is hiding something yet wants to be seen. The novel draws on life, on a series of stories stolen from other people, though all are stories to which I have a personal connection. Its narrator, Sara Wheeler, has been falsely accused in the past of stealing a wallet and using a stolen credit card, and is struggling to determine the truth of disturbing allegations made against Raymond Renaud, the Canadian founder of a children's circus in Ethiopia. A group of teenaged performers have fled the circus and, in the context of an asylum claim, accuse Raymond of abusing them: Are they truly his victims or saying these things in order to strengthen their case for asylum, as he alleges? Without being able to determine the truth, Sara has to figure out what to write about the case. What she writes has terrible implications and alters the story in turn. She's the novel's moral fulcrum. As a novelist I've always been interested in ethical dilemmas and difficult choices. And I'm fascinated by people who live at the intersection of different worlds and collide with other people who carry radically different worlds within them.
Read the full interview
here
.
Author Catherine Bush on the trauma of false accusation: in conversation with Susan Swan
1. Your novel is about the trauma of being falsely accused. Can you tell us its story (in a few sentences)?
While in Copenhagen, Sara Wheeler, a journalist from Toronto, stumbles almost magically upon an Ethiopian children's circus and its charismatic director, a fellow Canadian named Raymond Renaud. When teenagers from the circus flee and make an asylum claim, citing abuse at Renaud's hands as their reason, Sara decides to investigate, only to encounter a maze of conflicting versions of what has happened. Her interest in the case is driven in part by her own experience of being falsely accused of a small crime in the past.
2. Why does a false accusation live on so powerfully inside us?
Once you have been accused of something, even if the accusation is retracted or proved to be false, it continues to have a life. We can all think of instances of this. Someone who has been falsely accused of sexual abuse can never eradicate that stigma. People have killed themselves in such circumstances. Even much smaller accusations can have great power. At a reading recently, a woman told me a story of being accused by her mother as a seven-year-old of stealing money from her mother's purse. The idea of stealing from her mother had never occurred to her. She found herself wondering what could possibly make her mother think this. She still wonders. So long ago, and the mother retracted her words, yet the accusation lives. And a rift forms because of it.
In the novel, Sara is pulled back into an old vertigo of helplessness. As a university student, she once found herself alone in a gym locker room with a woman whose wallet goes missing. The woman accuses her of stealing it. There are no witnesses. She is charged with theft and using the woman's stolen credit card. Store clerks come forward and swear they saw her using the credit card. All Sara can really say in her own defence is, I did not do it. And it's so hard to argue in the negative. Someone else recently wrote to me with these words: "Being falsely accused is a uniquely painful loneliness. Your innocence is so fundamentally obvious to you and completely unknowable to anyone else."
Read the full interview here.
Lemonhound Interview: Leesa Dean in Conversation with Catherine Bush
Leesa Dean (LD): Accusation has such a fascinating combination of plots: an Ethiopian circus with connections to Canada and Australia scaffolded with numerous subplots, complex relationship webs and a central question that is never answered. What was your initial entry point into this story?
Catherine Bush (CB): In 1996, I and my then-partner, Nigel Hunt, went to Addis Ababa to visit my sister. Nigel happened upon a children's circus that was founded by a Canadian. We spent some time with the circus and he made a low budget documentary about it. As in the novel, the founder was later accused by some of the older performers of sexual and physical abuse.
I was very interested in the subject of accusation−what it feels like to be accused, what it feels like on the inside to be falsely accused. We all know what it's like to some degree. We've all had that experience. It's very private and primal, and it reduces us to feeling like small children, helpless, voiceless. I'm also interested in situations where we confront someone who's been accused and don't have a way of resolving whether or not they're guilty. How do we judge someone in those situations? We never know what's going on in other people's heads, or necessarily why people do what they do. We constantly have to figure out who to trust and when to believe. That was the kind of material I wanted to pursue.
LD: The way you structure the novel around Raymond's accusation is a perfect mirror of ambivalence. It feels so carefully measured, like if I were to take every suggestion of Raymond's guilt, there would be an equally convincing, equally weighted suggestion of innocence. Was there a time in writing the novel where you veered toward one side or another, or was the intention always to preserve this balance?
CB: The balanced structure was much more intuitive than constructed. I wanted there to be contradiction and ambiguity. Sara definitely knows more by the end than she does at the beginning. Her view of Raymond has substantially altered from her first idealistic sense of him to the complicated view she has at the end. In the face of ambiguity, she has to figure out what to do. It's also a situation in which someone may be guilty of something that's not exactly what they're accused of. There's some kind of guilt or transgression in the room, but how do we talk about the things that aren't obviously transgressive? Someone may be guilty of a desire but not an action. Something has happened, but you don't know exactly what. It would be much easier to resolve the situation simply, but fiction is an art which gives you an opportunity to explore these kinds of emotional and psychological complexities. I wanted the journey itself to be satisfying.
Read the full interview here.
Lemonhound Prose and Narrative Portfolio: Excerpt from Accusation by Catherine Bush
What am I supposed to do, he shouted.  His voice dropped, contrite.  I'm sorry.  Raymond Renaud's hand reached out across the car, as if to touch Sara's arm, before skidding away.  Behind the wheel, steering the car through the night, she had a sudden image of Raymond flying through the air with the children of his Ethiopian circus, high over the ocean, the boy who'd been paralysed tumbling from the flock towards the water from that great height. I can't believe the thing that's happened, Raymond Renaud said.  It is so terrible, I think, if I go back, he won't have fallen, it isn't true, it can't be.  When Sara glanced at the passenger seat, Raymond was touching his knees with his fingertips, his thighs, the edges of his jacket.  If I was there it wouldn't have happened, if I had stayed, if I had not come away.  If he fell, I would have saved him.  He is, of all of them, he is —
Read full excerpt here.
Catherine Bush: Magnetism on Book Shelves. Shelf Esteem with Emily Keeler
A lot of my books don't live on the shelves—they sort of migrate off the shelves, as you can see from the piles. I like the magnetic pull that books have, and I think that's why they come off the shelves when I want to read them, or when I just kind of want to have them close to me. Sometimes I would like to arrange books by their powers of magnetism. And that will shift, there are some books I just have to have with me at a certain time, and others at another point, and books that gain a different kind of magnetism just by being next to each other. I was thinking about this essay that Italo Calvino wrote, called "The Ideal Bookshelf." He talks about the individuality of any two people's shelves, and what's revealed just by the juxtapositions on people's shelves.
Read the full interview here.
Open Book Toronto Interview: The Dirty Dozen, with Catherine Bush
Today Catherine speaks to Open Book as part of our Dirty Dozen series, where authors share twelve unexpected facts about themselves. Catherine not only tells us about camel races and goat milk coffee cocktails, but in the spirit of discussing accusations and the difficulty of finding the truth, Catherine has supplied one false response to the Dirty Dozen. Think you know which one it is? Well, it's time to do some finger pointing of your own, because Catherine is offering a copy of Accusation to the first person to correctly guess the false entry on this list. See item thirteen for more details!
I once laid my hand on the side of a dead humpback whale, wept at its stench and slipped my fingers into its mouth to touch the baleen.
I took part in a camel race in Maralal, Kenya, the saddle a mattress strapped around the camel's middle. Attached to it was a horn to hold onto, and stirrups. Poky on the outbound route, the camel went faster on the return leg, the mattress not quite enough padding against his bony bits. I didn't fall off, which was the important thing.
I recently learned how to make a capraccino: take one cup of hot coffee or tea, hold it under the udder of a goat, squeeze hot foamy goat milk from teat into cup. Drink.
In the space of a couple of months, in two different cities, two squirrels tumbled out of trees and fell to their deaths on the sidewalk in front of me.
Read the full interview here.
Articles about Accusation by Catherine Bush
J'accuse: The Last Word column
While revising my new novel, Accusation, I found myself describing the plot to a friend. The book follows Sara, a journalist, as she tries to determine whether there is truth to allegations of abuse made against Raymond, the founder of a children's circus in Africa, a man she meets and helps. Having been falsely accused of a lesser crime in the past, Sara wants to hold on to the possibility of Raymond's innocence, to give him the chance to speak and potentially defend himself. Evidence of his guilt mounts, but it's circumstantial. The stories others tell are ambiguous and contradictory, and Raymond's alleged victims are hard to reach. My companion turned to me and asked, "But don't you have to know whether or not he's guilty?"
Quill & Quire, October 2013.