Claire's Head
Shortlisted for the Trillium Award, a Best Book of the Year as chosen by the Globe and Mail.
"Brilliantly conceived and executed . . . a strange, complex, breathtaking double journey  ."
– The Globe and Mail
"Catherine Bush's fiction is clear, humane, gripping, and unfailingly intelligent. She is one of our finest writers."
– Barbara Gowdy
"Bush has once again demonstrated that combination of intellectual and emotional resonance that won her such accolades for The Rules Of Engagement. Her prose is lucid and straightforward, well-suited to the delivery of her timeless message that yes, pain hurts, but while we feel it we are still alive."
– Toronto Star
"Hallucinatory… Claire's Head is … the work of an accomplished author, one with a clear sense of the distinct problems and possibilities of her times." —Quill & Quire
"Claire's Head is a gripping, strikingly original book." — London Free Press
Excerpt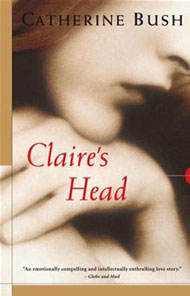 Sometimes the healer laid his hands on her and sometimes he didn't. His touch could be a fleck, an adjustment, a vibrating manipulation… He spoke to her as he worked although she couldn't altogether remember or make sense of what he was saying. Partly it was his accent. At one point he asked her how she was feeling and she said fine now, and if he meant generally then good except that, like Rachel, she got a lot of migraines.  He asked her to turn over, onto her back. He laid one hand on her chest, on top of her collarbone, between her breasts, and peered down at her.  "You must ask, 'What is the place of pain?'"
Description
On a quiet June day, Toronto cartographer Claire Barber learns in a phone call from a stranger that her sister Rachel has vanished from New York. Haunted by the fear that Rachel's worsening migraines may have finally pushed her beyond her limits, Claire disrupts her orderly life to follow news of Rachel to Montreal, to Amsterdam, to Italy, and, ultimately, to Las Vegas and Mexico. Struggling with her own headaches, Claire embarks on what becomes an increasingly turbulent journey, one that brings to the fore long-held secrets from the past, the difficult memory of her parents' sudden death years earlier, and tests the unique, irreplaceable bond that exists between sisters. What Claire discovers will set her life on a new course. Engrossing, psychologically charged, Claire's Head explores how we live with pain – how much we can bear and what we're willing to do to free ourselves from it.